How We Are Responding to Covid19 Outbreak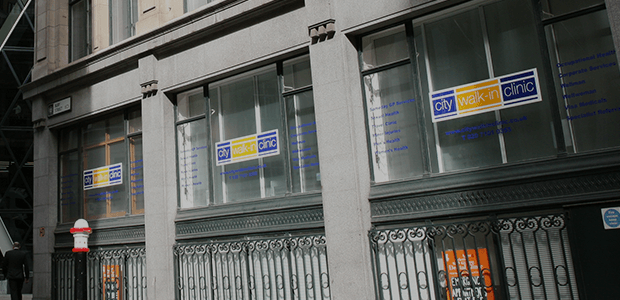 City Walk In Clinic is closely monitoring the situation with respect to the spread of Coronavirus, also known and referred to as Covid-19.
Our clinic remains open from 7:30am-6:30pm Monday to Friday.
We are complying with Public Health England guidelines to ensure the safety of all our staff and patients. We are adhering to all the required precautions to reduce the risk of spreading Covid-19 whilst still fulfilling our responsibility towards our patients. We have started implementing a new triage policy for all patients who wish to attend the clinic to keep everyone safe, and have also put in place additional measures which include:
Coronavirus testing & consultation
Most of those affected with coronavirus are self-isolating and not sick enough for hospitalisations and testing. We have rolled out a coronavirus testing and consultation package that includes both medical advice and testing at home.
It consists of:
Remote consultation with one of our doctors for those who are symptomatic and self-isolating (by phone or video-call)
Test kit mailed to them at home with steps to follow to swab throat and nose
Follow up the telephone or video consultation with results and advice
Results are back in 2-3 days.
Telephone & Skype consultations
If you have flu or cold-like symptoms, regardless of recent travel, please do not attend the clinic in person until these symptoms have passed. We can book a telephone or Skype consultation with you and provide a prescription remotely, either by post or by fax to a local pharmacy. We can also point you to a pharmacy delivery service. Call us on 020 7101 0355 or email [email protected] to book a consultation.
Home Visit Service
If you need to see a doctor and have not travelled from a high-risk area but are uneasy about the thought of having to travel to the clinic at this time, we can dispatch a doctor to you for a home visit. We can send a doctor within 2-3 hours from the time of contact. Please call us on 020 7101 0355 to arrange your visit.
Appointments for other medical needs
If you require a consultation or service for any other reason and have travelled from a high-risk area in the last 14 days, the government advice at this stage is to self-isolate for 14 days. We can book you in at a convenient date and time for you once those 14 days have passed.
If the above does not apply to you, we can book your visit and conduct your consultation, as well as any diagnostic testing as usual at our clinic at Renown House, 33-34 Bury Street, EC3A 5AR.